Correction vs Relief
Relief Care Chiropractors and Corrective Care Chiropractors
Relief Care Chiropractors:
Determine your length of care and amount of treatment by your symptoms, your insurance company, and/or how often he is allowed to see you.
Provide a "quick fix".
Do not provide long term measurable correction.
Corrective Care Chiropractors:
Concerned with actually correcting the condition in your spine and nervous system in order to not only eliminate symptoms, but to improve overall health.
Focus on removing all interference to the nervous system caused by abnormal position of the spine and Subluxation(misalignments) through a very specific rehabilitative program of spinal adjustments, stretches and exercises.
Focus on cause not effect.
Real Life Example
Below is an example of a patient Pre (left) and Post (right) x-rays taken after three months of corrective care at our office.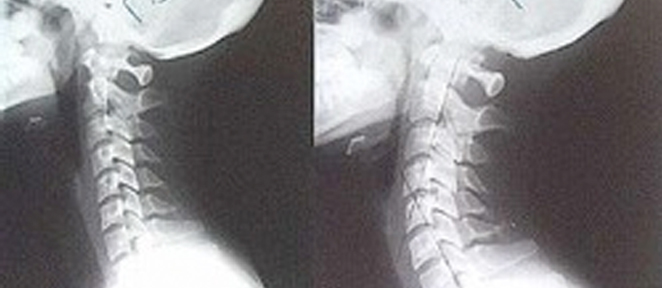 Symptoms when starting care:
Numbness/Tingling in hands
Migraine Headaches
Chronic neck pain for 12 years
Frequent colds
7 prescription drugs per day
Current Symptoms:
Occasional neck Stiffness
THIS PATIENT NO LONGER TAKES ANY MEDICATION AND HER QUALITY OF LIFE HAS BEEN CHANGED FOREVER.